One of the things Crete is famous for, is the high amount of beaches and their incredible crystal clear water. Whether they are accessible or hidden gems, it is definitely worth taking a trip and visit them.
We made a list with some of the beaches closer to Calma Villas that are quite easy to get to and access.
Sissi Beach 700m away
The trademark of Sissi village is the natural harbour with the deep turquoise, calm water. The coastline around Sissi is mainly rocky, except from a few small beaches. It is a perfect spot to sunbathe, while getting a feel of the village, as it is surrounded by taverns and coffee shops.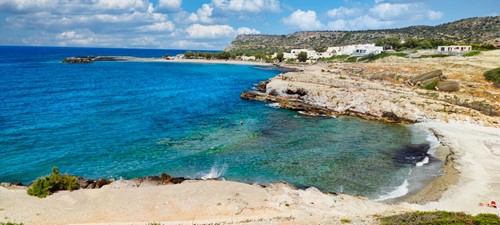 Boufos Beach 1.4km away
In the Harkoma bay you will find the beach of Boufos. Normally it is an organized beach with sunbeds and umbrellas, however this year it will be kept in its natural state, with just its sandy beach. Worth to take into account is that sometimes, can get quite windy, as it is open sea around it.
Right next to Boufos, you will find the smaller beach of Avlaki, formed at the exit of a narrow bay.
Kalimera Beach and Spiliada 1.8km away
Just a bit further east is the beach Kalimera. It is well organized, by the hotel, and has shallow waters, ideal for children. On the other side of the hotel, you'll find the last beach in Sissi territory, called Spiliada. It is a sandy beach surrounded by shady trees and it tends to be quieter than the other beaches around.
Agia Varvara Beach 2km away
This sandy beach is formed in a small bay in front of a hotel, and is well organized with umbrellas, sunbeds, and there are several tamarisk trees nearby. It takes its name after the church nearby dedicated to Saint Varvara. The islet opposite from the beach can be reached by swimming, however do be careful of the strong currents, sometimes forming around it.
Potamos Beach 4km away
This beach is absolutely worth visiting as you can both sunbathe there, but also visit the Minoan Palace located nearby. Potamos Beach is a long sandy beach and very well organized. It was awarded by the international organization "Blue Flag" for its standard for cleanliness, crystal clear water and for preserving several coastal vegetation species, extinct in other places of Crete.
Right across the beach, you will find a small traditional tavern, that even though has a small variety of dishes, they are deliciously made in the famous Cretan style.
Malia Beach 6km away
If you are looking for a livelier place, Malia Beach is the perfect spot. It is a wide beach with fine sand and quite shallow waters. Being always busy with tourists, all types of services are available, from water sports, gyms, massage to your usual bars, restaurants and cafes.
It is one of the most popular spots in this area.