The ongoing pandemic has made everyone rethink our daily routine and habits and especially our travel plans. Regardless of the situation, many travellers are not shying away from booking vacation homes. From remote villages to beach front properties, the Greek Islands have something for everyone. But how safe is it to vacation at a rental villa?
Here is our check-list for making sure your villa holiday in Crete will be a COVID-19 free experience, when staying with us:
-              Travel cautiously
First things first, check for potential travel restrictions, as the most apparent risk in renting a vacation home might be how you get there. The Greek Government makes regular updates on their official website and we monitor it constantly. And if you have any concerns or questions before traveling to Calma Villas, just contact us and we will be happy to help clarify things and update you with the current regulations upon your arrival. Even before the pandemic we understood the importance of personal space, so we are offering our clients a free of charge transfer from Heraklion airport or port to the villas.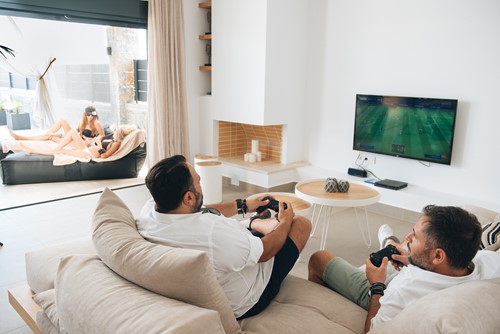 -              Social Distancing Guidelines
Planning a vacation with social distancing in mind is paramount. But it can also mean endless researching of what fun activities you could do while vacationing, while still following the local regulations. This is why a private villa makes it easier right from the start. Think about all the activities that would normally require you to enter in enclosed spaces with strangers or waiting in queues. At Calma Villas you have your own private pool, private relax area, fully equipped kitchen and even a wine fridge fully stocked. And just in case you get tired of too much relaxation, we made sure to add some fun board games and a PS4 in the living room space.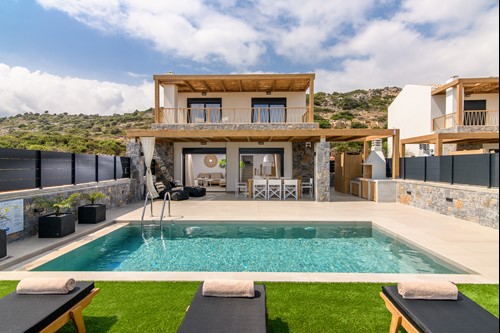 -              Our updated cleaning protocol 
The standards for booking vacation rentals have changed drastically during the coronavirus pandemic, which means additional health and safety precautions are taken. Before each arrival, a professional cleaning is making sure the entire villa is clean and sanitized. And to prove so, we have a certificate that you could ask for during check in.
For a more detailed read, make sure to read the Calma Villas health and safety protocol.
-              Be a respectful visitor
Practice social distancing and wear a mask when outside the property. Avoid crowded places and be mindful of local safety guidelines. Should you or someone in your party get sick and exhibit respiratory symptoms during the trip, keep the patient isolated in a separate room, and notify our guest contact as soon as possible, so we could then notify the local doctor.
-              Flexible Cancellation Policies
To cope with the last-minute travel updates, most villa owners and villa renting platforms have adjusted their cancellation policies to reflect just that. We understand that booking your accommodation in these uncertain times might seem a little risky. Our reservation team came up with some solutions that are in the best interest of both our customers, as well as Calma Villas:
Book Now Pay Later policy
0% payment at the moment of reservation
Free cancellation up to 30 days before arrival
Or
Limited Flexible Rate policy
25% payment at the moment of reservation and 25% payment 29 days before arrival
Free cancellation up to 30 days before arrival
Free change of travel dates after cancellation fees apply
Travelling during these new set of rules and regulations can be stressful, but once you arrive at the airport in Heraklion, our team will make sure your vacation is stress free and full of memorable moments.
Until then happy packing!